How about browsing through a treasure trove of self-narrated experiences of your own school and college life. Sounds exciting and something that every student would look forward to having, right? Having your student life captured in a digital portfolio makes it all possible.
Along with your journey of notable projects, achievements, competitions, certificates, medals earned and marksheets, you also have stories about each of your successes and failures. The trail of milestones achieved, celebrations of learnings and experiences from failures are all crafted in your own words with your creativity. 
What is a Student Portfolio?
A portfolio for student is an archive of a student's learning experience and progress over time. Also called a digital portfolio or an e-portfolio, it displays a student's accomplishments and provides a window into student learning over time.
Having said that, a digital portfolio is not merely a record of academic performance; it also leaves room for students to showcase creativity and personality.  With that, there comes responsibility and accountability for one's own learning journey. Students may have their blogs or e-journals to write their reflections on learning activities, progress made and noteworthy capstone projects along with their accomplishments. How do you showcase your project work or accomplishments over years to others? Creating digital portfolios can help students share their work with peers, parents, teachers and the world. 
Every student is a unique being in terms of their own strengths and weaknesses. So how do we encourage students to celebrate their own uniqueness and excel? Here we discuss why every student needs a digital portfolio.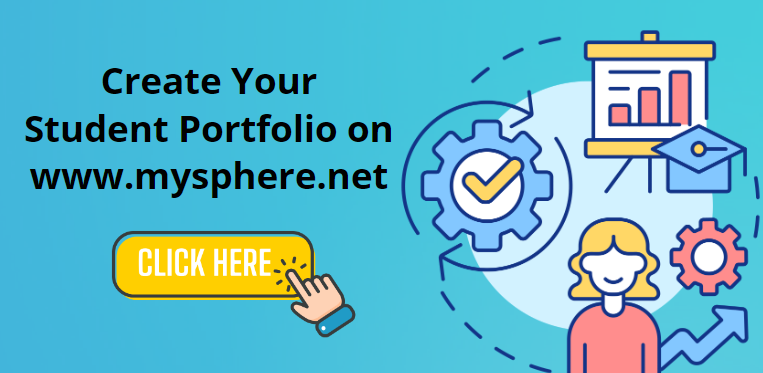 Five reasons why students need a Portfolio
To see self-growth over time
When all the work is in one place, that allows students to track their growth. For students, it's motivating to see improvement in their own skills over time. Here is an example where an artist shows his progress from when he was 2 years old to 28 years of age.
To tell stories of student life
While talking about student life, Grade Point Average (GPA) scores instantly become a topic of discussion. Having a high GPA is an indicator of good academic performance. However, student performance can't be restricted to academics only and an individual's interest varies and so does skillset. A student's digital portfolio helps to go beyond academic grades, dig deeper into interests and skills and present a holistic overview of a student's life.
To understand the learning style and preferences
Putting artifacts in an e-portfolio requires one to creatively organize their stuff and decide how best they want to represent their learnings. In doing all this, the skills that are in demand for the workforce are exercised and improved over time. Skills include effective communication, organization, planning, structuring, summarizing, reflecting and designing to present to the audience. By receiving feedback on the work posted in the e-portfolio, one can learn from others' perspectives or reactions.  Taking this feedback constructively is a skill that can also be developed.
To develop 21st-century skills
Putting artifacts in a portfolio requires one to creatively organize their stuff and decide how best they want to represent their learnings. In doing all this, the skills that are in demand for the workforce are exercised and improved over time. Skills include effective communication, organization, planning, structuring, summarizing, reflecting and designing to present to the audience. What else? Receiving feedback on the work posted in a portfolio, learning from others' perspectives and learning to deal with feedback.
To get a digital presence for studies and career opportunities
When applying for college or university admissions abroad, an e-portfolio has its own weightage. In the world of work,  potential employers find great value if candidates have an impressive digital portfolio that speaks about their accomplishments and self-growth over time along with the skills acquired. Millennials need a digital portfolio to showcase their talent, and to reach out to like-minded people. In today's world, resumes and e-portfolio help students have a leg up and stand out from the crowd. It shows evidence of work assignments and a professionally verifiable online presence, distinct from just a social media presence.
Digital portfolio is a new resume
CVs are only text-based summaries of schooling, achievements, and accumulated work experience (with photographs). A CV created in this manner might not provide a comprehensive picture of your accomplishments and may fail to highlight skill sets and skills. The depth of knowledge acquired through diverse projects and the abilities honed while working on them cannot be demonstrated by students. Students' digital portfolios are dynamic and updated whenever they add to their skillset, course completion, volunteering/internship experience, etc. In a nutshell, a holistic view of a student's personality surfaces. A well-structured digital portfolio can serve as a dynamic resume with rich multimedia components. A digital portfolio CV can be used during the college admission process and can also be shared with potential recruiters or internship providers.
To showcase hard work and efforts
Digital portfolios follow a student all the way through school and college. Students don't have to create portfolios every year as the new year rolls in. Additionally, this implies that you may look back in time to examine what you have done in earlier years and your development over time. A student's digital portfolio serves as a platform for their project-based learning, showcasing the knowledge they have learned, the skills they have honed, and their learning progress. Students can showcase their project work in a portfolio when applying for scholarships, internships, jobs, and colleges.
Digital portfolios provide an opportunity for self-reflection
Reflection is the key to self-growth. When you reflect, development is encouraged and you become closer to your goals because you may believe in your greater potential. Every student has a portfolio of their own. In the end, they can use it as their own learning archive. They can upload work, use it as a place for personal reflection by attaching blog articles, and so on. It is a fantastic way for them to be in charge of their education and maintain a portfolio of their finest work.
A digital portfolio is easily accessible and shareable 
Bringing your résumé along can be problematic in a number of circumstances and might even backfire. This might happen if it's raining and your résumé gets soaked. Or the sheets may crumple and mislead the interviewer or recruiter. In these situations, sending a digital portfolio is significantly more effective because it eliminates the hassle of maintaining neat and orderly pages by simply sending the portfolio's link.
To organize projects, learnings and multimedia
What happens once you create a new project or enhance your skill set? Restructuring your resume once more will be necessary. Since most resumes are single-page, highly compact A4-sized pages with minimal room for gaps, you may need to move a few items around, modify the font size, etc., to make room for this new talent, project, experience, or even a small accomplishment. A digital portfolio is a preferable replacement for this.
Much has been said about the essential abilities that our students require to thrive in a fast-changing world and employment market. Student Digital portfolios could help bridge this gap and build these skills such as critical thinking and problem-solving, as students work on their digital portfolios throughout their school-college life.
How to get started with Student Digital Portfolios?
Top Questions Answers about the Student Portfolio
Why is your Student Profile and Portfolio important?
Student Portfolio as an assessment tool
A complete guide to using a Digital Portfolio